Recycle Store 'Manga Souko'! – Selling & Buying Secondhand Goods
Comics, Books, CDs, DVDs, Games, Nintendo DSs & Wiis, PlayStations, Toys, Figurines, Cards, Home Electric Appliances, Sports Gear, Fishing Tackle, Musical Instruments, Accessories, Brand-name Goods etc.
Find Your Treasures!Manga Souko
Recycle Store 'Manga Souko'! – We sell and buy 'Books, DVDs, CDs, Games, Sundries, Secondhand Clothes etc.'
Store Information
■ Manga Souko Stores in Japan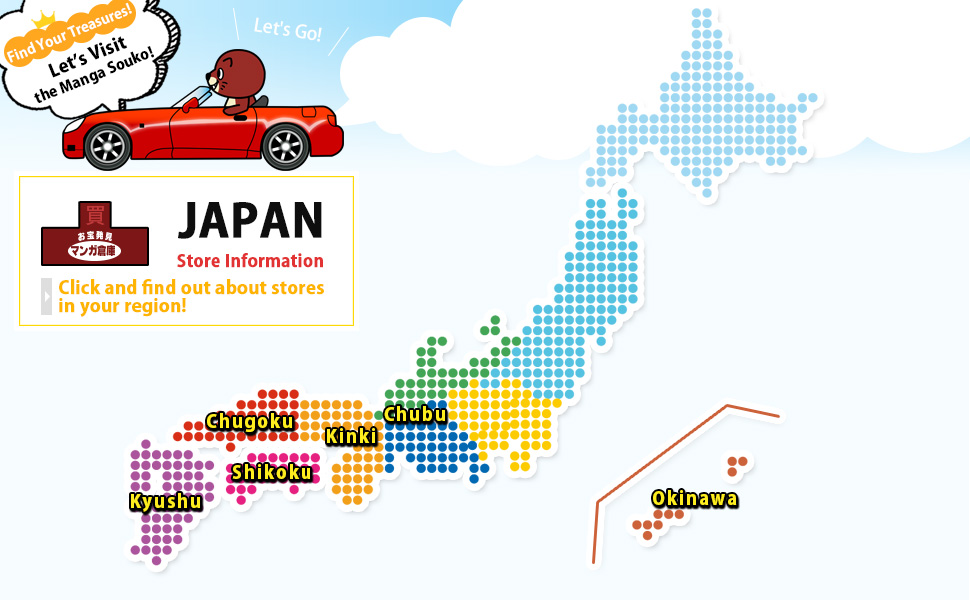 ▼Store Finder: If you click the addresses of the stores, their maps will appear.
Manga Souko [Chubu Region]
Toyama Prefecture
Manga Souko [Kinki Region]
Osaka Prefecture
Manga Souko [Chugoku Region]
Okayama Prefecture
Hiroshima Prefecture
Yamaguchi Prefecture
Manga Souko [Shikoku Region]
Kagawa Prefecture
Manga Souko [Kyushu & Okinawa Region]
Fukuoka Prefecture
Saga Prefecture
Nagasaki Prefecture
Oita Prefecture
Kumamoto Prefecture
Miyazaki Prefecture
Kagoshima Prefecture
Okinawa Prefecture